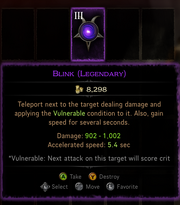 Blink is a type of demon power.
Attributes
[
]
Teleport the caster to target instantly.
Deals damage to the target 920 - 1020 (max base property).
Inflicts Vulnerable status on the target.

Vulnerable: Next attack on this target will score crit.

Grants Speed status to the caster for 5.4 seconds (max secondary property).

Speed: Movement and attack speeds are increased by 33%.