The Hunter
Details
Max Rarity

Legendary

Max Cost
3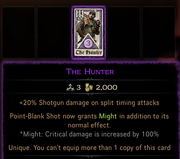 The Hunter is a type of weapon enhancing Destiny Cards designed to work with Shotgun.
Attributes
[
]
The Hunter card only comes in legendary rarity and costs 3 Destiny Points.
+20% shotgun damage on split timing attacks.
Point-Blank shot now grants Might in addition to its normal effect.

Might: Critical damage is increased by 100%.