Obi-Wan Finale - The Loop
Play Sound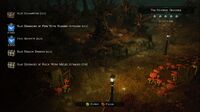 The Hunting Grounds are a vast prairie, with several marshes and rocky hilltops.
There are various locations in these wild territories, such as abandoned mines, caves and ruins.
Victor comes here for the first time in search of Irene, who started wandering the wildlands after the death of Adrian.
The Hunting Grounds are home to the Devil's Throat, lair to dangerous Spiders and Essences, the Widow's Mine, where Irene finds the spirit of Tzar Borimir, the Watchtower Ruins, full of Undead Pyromancers and the terrible Bane, the Tangle, nest to the monstrous Spider Rachnoss and Frostteeth Grotto, with its Frost Spiders and Ice Essences.
NPCs
[
]
Tzar Borimir appears and speaks in riddles in three different occasion, in the Hunting Grounds.
Beside a pier along the river.
"
Come away, O human child!
to the waters and the wilds
with a faery, hand in hand,
for the world's more full of weeping
than you can understand...
"
Near the ruins of the old Watchtower.
"
Reach high, for stars lie hidden in your soul.
Dreem deep, for every dream precedes the goal.
"
Among some small woods infested with Essences, not far from where the Hangman is found.
"
The woods are lovely, dark and deep.
But I have promises to keep.
And miles to go before I sleep.
And miles to go before I sleep.
"
Challenges
[
]
Secrets (8)
Elite Challenges
Gallery
[
]