The Reaper
Details
Max Rarity

Legendary

Max Cost
3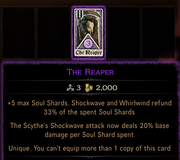 The Reaper is a type of weapon enhancing Destiny Cards designed to work with Scythe.
Attributes
[
]
The Reaper card only comes in legendary rarity and costs 3 Destiny Points.
+5 max Soul Shards. Shockwave and Whirldwind refund 33% of the spent Soul Shards.
The Scythe's Shockwave attack now deals 20% base damage per Soul Shard spent.